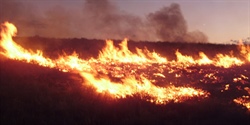 Northern Ag Network Note:  These two articles have us scratching our heads.  On one side you have the US Forest Service whose prescribed burn got out of control and burned 11,000 acres, at least half of which was private ranch land, and it gets declared "No Liability."  On the other side, you have a family who got permission to start a prescribed burn then ended up with jail time when the fire got out of control and  burned 140 acres of federal land.  How exactly does that work?
Federal government denies liability on U.S. Forest Service lit Pautre Fire
In April of 2013, a U.S. Forest Service prescribed burn fire got out of control and ended up scorching nearly 11,000 acres of public and private lands southwest of Lemmon, South Dakota.  One outbuilding was burned, along with fences, hay, and pastures.
According the the Tri-State Livestock News (http://bit.ly/1OdZEh2), the ranchers affected by the fire finally learned on June 27, 2015 that the the federal government will not take responsibility for the fire or associated expenses.  The local grazing district had filed a claim for almost $2.5 million in damanges to restore the burned acres of prairie, fence, trees and hayground.
"Our review of the claim discloses no liability on the part of the United States. Therefore your FTCA (Federal Tort Claims Act) claim is denied," said an assistant with the office of general counsel under the United States Department of Agriculture to the claimants.