POSTED: 11:05 AM MST Jan 05, 2016 
UPDATED: 07:19 PM MST Jan 05, 2016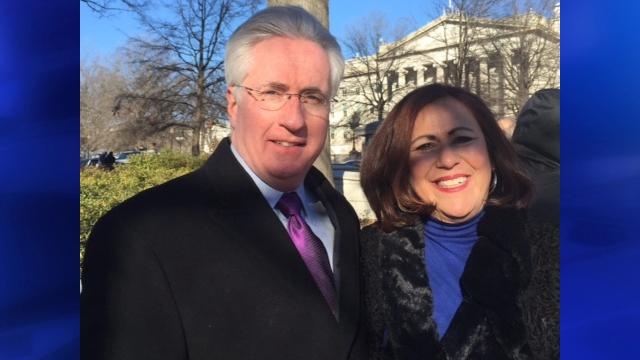 WASHINGTON –Former southern Colorado state Sens. John Morse and Angela Giron were invited to Washington, D.C. for President Barack Obama's gun control announcement Tuesday morning.
Morse and Giron were both recalled for supporting stricter gun laws in Colorado in 2013.
Morse, who served Senate District 11 in Colorado Springs, shared a picture on Facebook of himself and Giron waiting in line outside the White House on Facebook. Giron served in Senate District 3, which includes Pueblo. A current Colorado lawmaker was also in attendance.
Democratic state Rep. Rhonda Fields of Aurora says she got an unexpected invitation to talk to the president about gun violence at the White House on Tuesday.
Fields sponsored the expansion of background checks and limiting the sale of ammunition magazines that hold more than 15 rounds in Colorado in 2013 in response to mass shootings at a suburban Denver movie theater and Connecticut's Sandy Hook Elementary School.
Obama on Tuesday announced several measures he believes will curb gun violence, including one that requires nearly anyone who sells guns to register as a firearms dealer and conduct background checks on clients. Obama also plans to invest money into mental health care, as well as additional Bureau of Alcohol, Tobacco, Firearms and Explosives (ATF) agents.
"I was like in the second row, two yards away from the president, and he was so impressive and everything that he had to say and his compassion," Giron said.
Victor Head led the recall effort that ousted Giron from office. He said Obama's proposals won't stop criminals.
"It's really just going to nix out hobbyists and people that have larger collections. I call them rotating collections. You buy stuff, you shoot it for a while, you get sick of it or you want something bigger and better and then you go to sell 'em," Head said of the proposals. "It's a lot more red tape is all it is for good, honest dealers and people engaging in the business."
As for Giron, she said she's proud to stand with other lawmakers on what she calls the right side of history, and she said she has no regrets about supporting legislation that ultimately got her recalled.
"Because those laws are on the books and everybody still gets their guns. They still get to buy all their ammunition so everything, when they said the world was going to end because we passed our legislation, none of that came true and so we're safer and better for it," Giron said.
But Head doesn't believe the measures will do anything to curb gun violence. He said one of the best ways to combat the violence is arming more people with guns.